Attic Breeze® SFD Model Series
The Zephyr® SFD Series Solar Attic Fans
Designed for northern facing roofs or shaded roof areas where more sun exposure is needed, The Zephyr® SFD model solar attic fans feature a remote solar panel with our standard 15 foot power cable and low profile panel mounting brackets.  The Zephyr® SFD model fans offer a self-flashing base for easy installation on roofs with composite shingles, cedar shake, flat concrete tiles, or other low profile roofing materials.  Equipped with our proprietary monocrystalline solar panels and designed with UltraFlo® technology, The Zephyr® series solar attic fans offer both high performance and durability.
Product Features
Remote mounted monocrystalline solar panel
Low profile solar panel mounting brackets
UV/Weather resistant 15 foot power cable
Self-flashing style base
Corrosion resistant zincalume alloy fan housing
 Stainless steel brackets and hardware throughout
Available in natural zincalume or powder coated finish
UltraFlo® design technology
Whisper quiet 14″ aluminum fan blade
No plastic, all metal construction
Florida & Texas Windstorm Certified
Thermal switch included at no additional cost
Residential Lifetime Warranty
Manufactured in the USA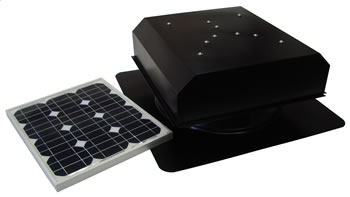 Solar Panel Mounting Options
The Zephyr® SFD models are available with the optional Attic Breeze® Universal Bracket. The adjustable Universal Bracket system allows for a full range of solar panel mounting direction and inclination. The Universal Bracket may be mounted on a roof, fascia, eve, wall or may even be pole mounted, offering a high degree of installation flexibility for your remote solar panel.
Additional Product Options
Thermal Switch
The Zephyr® SFD series solar attic fans feature thermal switch control available standard with all models at no additional cost. The thermal switch is factory preset to operate within a nominal range of 75°F. The thermal switch controls the solar attic fan to automatically shut down when attic temperatures fall below the preset range. Fan models may be ordered either with or without thermal switch control.
Power Cable
The Zephyr® SFD series solar attic fans come standard with a 15 foot power cable (18 AWG) for remote mount solar panel installations. For applications requiring a longer distance cable run, the 40 foot extended power cable (14 AWG) is an available option. All Attic Breeze® power cables feature exterior grade UV/weather resistant cable and weatherproof quick-connect plugs for easy installation.
Painted Panel
Remote mount solar panels come standard in a natural anodized aluminum finish for The Zephyr® SFD series solar attic fans. As an available option with this model series, the remote mount solar panel frame may be painted in a matching finish with any of The Zephyr® powder coated models. Solar panel frames are painted with an industrial grade polyurethane finish with this option.
 The Zephyr® SDA Model Fans
| | | | | |
| --- | --- | --- | --- | --- |
| Fan Models | Solar Power | Max Performance | Finish | Retail Price |
| AB-251D-NAT | 25 watts | 1550 CFM | Natural | $1050 |
| AB-252D-GRY | 25 watts | 1550 CFM | Gray | $1050 |
| AB-252D-BRN | 25 watts | 1550 CFM | Brown | $1050 |
| AB-252D-BLK | 25 watts | 1550 CFM | Black | $1050 |
| AB-252D-WHT | 25 watts | 1550 CFM | White | $1050 |
|   |   |   |   |   |
| AB-201D-NAT | 20 watts | 1350 CFM | Natural | $950 |
| AB-202D-GRY | 20 watts | 1350 CFM | Gray | $950 |
| AB-202D-BRN | 20 watts | 1350 CFM | Brown | $950 |
| AB-202D-BLK | 20 watts | 1350 CFM | Black | $950 |
| AB-202D-WHT | 20 watts | 1350 CFM | White | $950 |
| | | |
| --- | --- | --- |
|   | Universal Bracket | $39.99 |
|   | 40 Foot Extended Power Cable | $29.99 |
|   | Painted Remote Mount Solar Panel | $14.99 |